Cypher King & Cypher Queen Jam by Not Only Hip Hop
Not Only Hip Hop est de retour pour de nouvelles Jams !
Après un été 2021 en extérieur à faire des jams dans les skateparks, on voulait démarrer l'année 2022 comme il se doit avec une nouvelle jam ! 
On vous donne rendez-vous le samedi 26 février pour une Jam spécial Cypher King & Cypher Queen à Torcy, en collaboration avec Top Rock Society ! 
L'idée de l'événement est simple, on veut retourner à la base de la culture Hip Hop, les cercles ! 
Les cercles des danseurs 
C'est là où tout se passe, les défis, les échanges, le partage, la bonne humeur, les skillz, les burns 
Les cercles des disques vinyles
Sans les vieux 33T et 45T, les deejays ne pourrait pas nous faire danser, sans eux, pas de breaks, pas d'émotions, pas de danse, pas de scratchs 
En revenant à la base, nous voulons donner un aperçu aux nouvelles générations d'où viens la culture Hip Hop et comment cette culture des années 70 a pu évoluer et à donner ce qu'elle est aujourd'hui.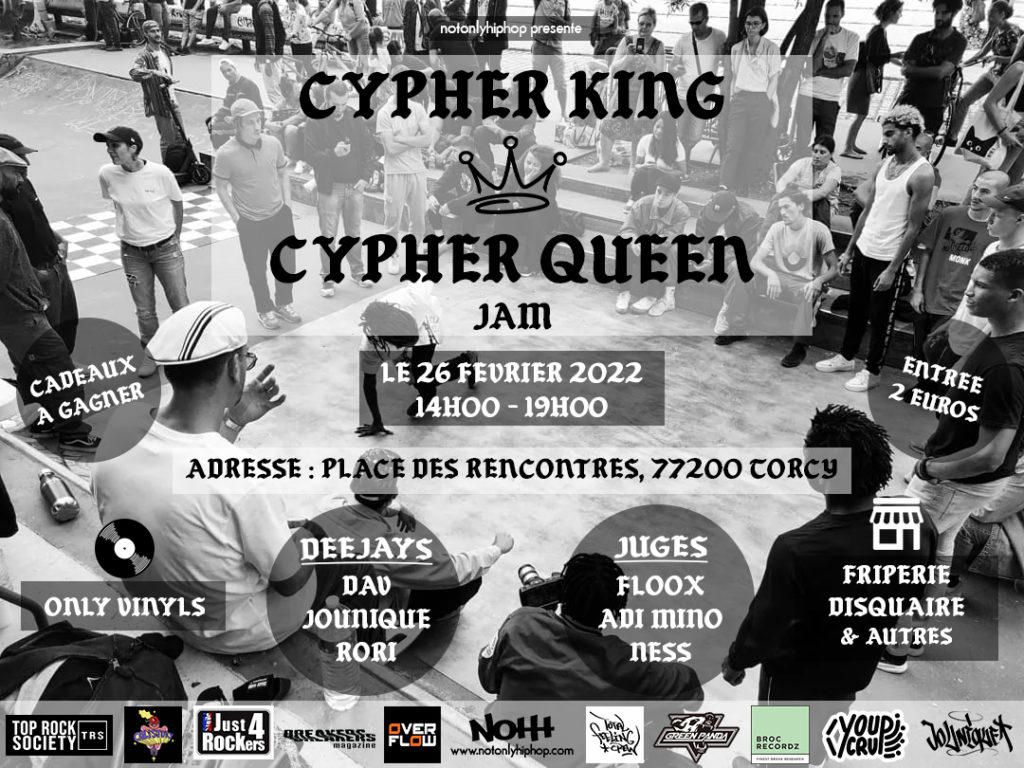 Informations sur la Jam 
Qui sera le Cypher King & la Cypher Queen ? 
La Jam commencera à 14h00, les inscriptions des b-boys et b-girls se feront sur place.
Les meilleures danseurs seront sélectionnés pour un top 8 (par catégorie) avec 8 b-boys ainsi que 8 b-girls.
Notre jury devra déterminer qui aura le mieux représenté, en fonction de leurs critères personnels.
La fin de la jam sera prévue pour 18h30
Nos Deejays 
• Cléon
• Dav aka The Good Father
• Jounique
• Rori
• Fado
Notre jury 
• B-boy Floox (Total Feeling)
• B-girl Ness (Youpi Cru)
• B-boy Adi Mino (Overflow)
Différents stands seront présents pour l'occasion
La Friperie : Calistory 
Qui propose des vêtements vintage et streetwear où vous pourrez vous procurez des vestes, des tee-shirts, pantalons et autres accessoires de mode pour être Freshhhhh !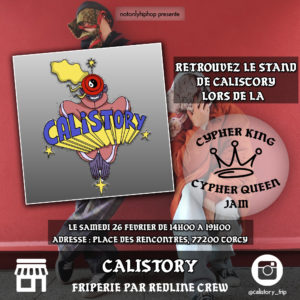 Le Disquaire : Broc Recordz 
Label de musique et également vendeur de disques vinyles, il donne rendez-vous à tous les diggeurs et passionné de musique à venir vous procurer des breaks et autres musiques de folies !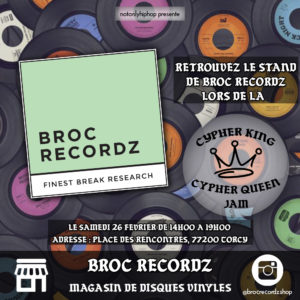 Morgan le Cam : Artiste plasticienne
Elle sera présente pour l'occasion pour dessiner live et vous faire découvrir ses dessins d'une qualité incroyable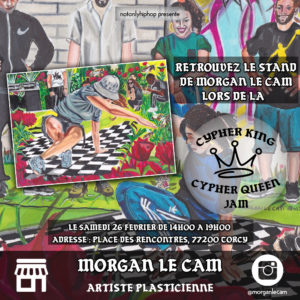 Breakers Mag : Mag de Breaking
Magazine billingue FR/EN dédié aux acteurs/actrices de la culture Breaking internationale.Made by Bboys, Bgirls, for everyone.
D'autres stands seront annoncés prochainement …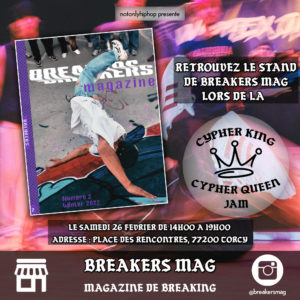 Overflow sera présent pour l'occasion 
Sponsors : Top Rock Society, Green Panda,..
 Des cadeaux seront à gagner 
Entrée : 2€ (pas de CB)
 Date et Horaires :
Samedi 26 février 2022 de 14h00 à 19h00
Adresse de l'événement :
Complexe Sportif de l'Arche Guédon, Place des Rencontres 77200 Torcy
Transports 
RER A Station Noisiel
Bus 220 Station Cité Scolaire
 3 minutes à pieds
Une soirée aura lieu la veille de la jam le vendredi 25 février de 20h00 à 00h00, à la Brasserie Coquin : 119 rue des Amandiers, 75020 Paris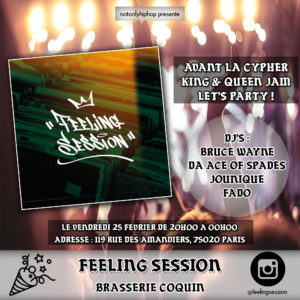 Notre intervention sur la Radio Keep It Real, Big up à Law K !
Not Only Hip Hop is back for new jams! 
After a summer of 2021 outdoors jamming in skateparks, we wanted to start 2022 off right with a new jam! 
We look forward to seeing you on Saturday February 26 for a special Cypher King & Cypher Queen Jam in Torcy, in collaboration with Top Rock Society! 
The idea of ​​the event is simple, we want to go back to the basis of Hip Hop culture, the circles! 
Dancers' circles 
This is where everything happens, the challenges, the exchanges, the sharing, the good mood, the skills, the burns 
 The circles of vinyl records 
Without the old 33T and 45T, deejays couldn't make us dance, without them, no breaks, no emotions, no dance, no scratches 
Going back to basics, we want to give new generations an insight into where Hip Hop culture came from and how this culture of the 70s was able to evaluate and give what it is today. 
Information about the Jam 
Who will be the Cypher King & the Cypher Queen? 
The Jam will start at 2:00 p.m., registration for b-boys and b-girls will be done on site.
The best dancers will be selected for a top 8 (by category) with 8 b-boys and 8 b-girls.
Our jury will have to determine who will have best represented, according to their personal criteria.
The end of the jam will be scheduled for 6:30 p.m.
Our DJs 
• Dav aka The Good Father
• Jounique
• Rori
• Fado
Our jury 
• B-boy Floox (total feeling)
• B-girl Ness (Youpi Cru)
• B-boy Adi Mino (overflow)
Different stands will be present for the occasion 
The Friperie: Calistory 
Which offers vintage and streetwear clothing where you can get jackets, t-shirts, pants and other fashion accessories to be Freshhhhh! 
The record store: Broc Recordz 
A music label and also a vinyl record seller, it invites all diggers and music enthusiasts to come and get you breaks and other crazy music! 
Other stands will be announced soon…
 Morgan le Cam: Visual artist
She will be present for the occasion to draw live and make you discover her drawings of incredible quality 
 Breakers Mag: Breaking Mag
Bilingual FR/EN magazine dedicated to actors/actresses of the international Breaking culture.
Made by Bboys, Bgirls, for everyone.
 Overflow will be present for the occasion 
Sponsors : Top Rock Society, Green Panda,..
 Prizes will be up for grabs 
Entrance: 2€ (no credit card)
 Dates and times:
Saturday February 26, 2022 from 2 p.m. to 7 p.m.
Event address:
Gymnase Guy Chavanne, Rue de la Paix, 77200 Torcy
Transportation 
RER A Station Noisiel
Bus 220 Station Cité Scolaire
 3 minutes walk 
A party will take place the day before the jam on Friday February 25 from 8:00 p.m. to 12:00 a.m., at the Brasserie Coquin: 119 rue des Amandiers, 75020 Paris
Créateur de Not Only Hip Hop x Not Only Jams x Paris Park Jams
Membre des groupes : Fresh Connex & Total Feeling
Born & Raised in Paris